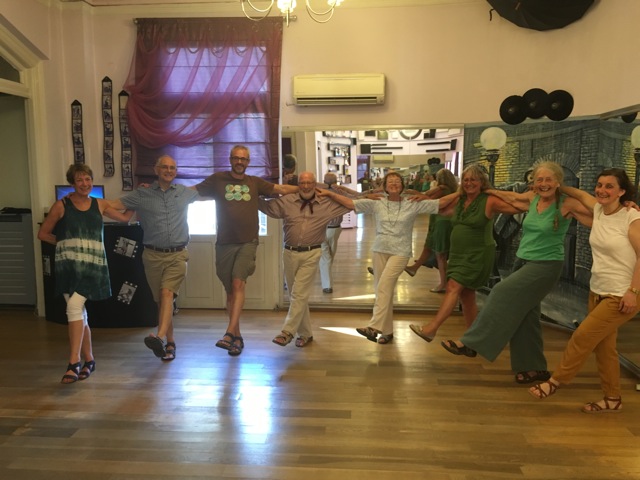 Adventures in Greek Language
Lower Intermediate/Conversations in Greek
Adventures in Greek Language
How to learn a difficult language and have some fun at the same time? That's always been the challenge for language teachers and learners alike.This week-long intensive course, however, plans to do just that and in a new and stimulating environment where you'll have plenty of opportunity to practice your Greek with local people. The course runs at two levels. 
The first, Lower Intermediate is designed for those who have some basic grounding of the language – amounting to two years or more of evening class Greek or an equivalent knowledge – including an ability to say simple things in the past, present and future. Our aim will be to build upon this base so that you will have more confidence understanding and responding to native Greek speakers in a variety of everyday situations. This will include widening out your knowledge of different tenses, grammar, sentence structures and vocabulary but always with an ear to how Greeks themselves converse colloquially. Audio-visual exercises, one on one conversation, lots of listening plus quizzes, games and reading extracts will all be part of the recipe. 
If you already have some Greek but are not sufficiently confident yet to have wide-ranging conversations with native speakers then the Higher Intermediate level:Conversations in Greek, is for you.The course is designed for those who have been learning modern Greek for some years – perhaps in a classroom environment – but who have had less opportunity to express their ideas, thoughts and opinions in Greek in a more complex, nuanced and fluent way. Our classroom learning each day will involve some grammar but the greater emphasis will be on listening to, speaking and understanding Greek as it is spoken. The course will also include a range of topical cultural, social, political and economic issues which will expand your vocabulary and deepen your knowledge of contemporary Greece. In addition to one on one conversation we will be using newspaper and magazine articles, short stories, poetry, film and other media.
Both levels will operate each morning, partly in the classroom, partly in outdoor activities where you will hear and speak Greek. Ellie and Virginia, will be swapping classes during the course of the week, so you will have plenty of variety and stimulus from two highly versatile and accomplished mother-tongue, language teachers. 
In addition we'll be spending lots of time in and around the historically rich and multicultural city of Xanthi and its very beautiful, surrounding Rhodope and Nestos valley countryside.  There'll be a full day excursion to somewhere exciting, as well as to Abdera, a classical site of some significance close to Ellie's home village. But equally importantly, our walks, talks and other activities, whether to the famous Xanthi bazaar, to local museums, kafenion or tavernas, will all have elements of listening to and speaking with Greek family, friends and acquaintances. There'll also be opportunities for culinary and dance workshops  and – with the coast just a few miles away –  to cool off from the summer heat with some seaside relaxation. 
If you've got any questions about the level of the course, or anything else, just contact us  by way of 'register your interest' below and Ellie will send you an e-mail or give you a call. 'Adventures in Greek' can also cater for learners' friends or family who might wish to pass on the classes.
Price includes
Seven nights
22 hours intensive language tuition.
Three star, twin bed, hotel accommodation,
Breakfast and three other main meals during course of week

Transport to and from Thessaloniki airport

All advertised walks, talks and guided tours
Price does not include flight to, or from Greece
Single room supplement.
Tour Leaders: Ellie and Virginia with Mark as historical foil.
Itinerary
Full details on request.
Other tours you may be interested in...