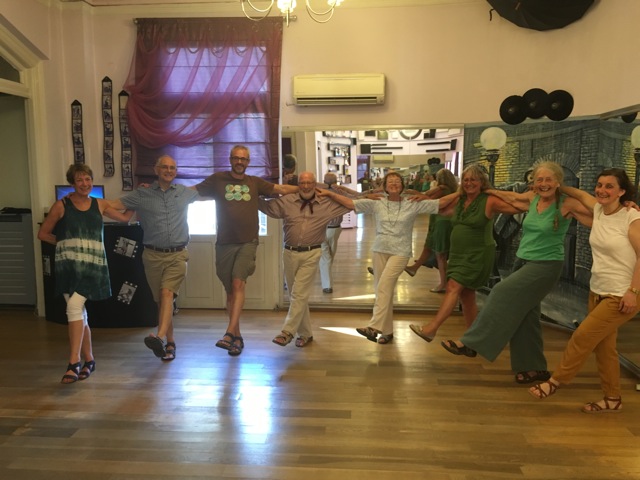 Adventures in Greek Language 2
Almost Complete Beginners
Dates
2nd  – 9th September 2021
Adventures in Greek Language 2
Have you already learnt some basic Greek in a beginner's language course or picked up a little for holiday travel to the country? If so, this course is designed to encourage you to take it that stage further, to a point where you can begin to enjoy the experience of listening to and understanding what Greeks are saying to you and are able to respond in kind with simple phrases.
Language learning should always be fun, even more so in a country like Greece where sitting outside a bar with a frappe, an ouzo or glass of wine and some choice mezes, is the ideal environment for soaking up not just the sun but the hospitable company of Greeks. With Ellie as your guide, this week-long gently intensive course will help you gain confidence using everyday Greek in its authentic environment.
And we'll be doing this in Thessaloniki – Salonika – a wonderfully vibrant metropolis with lots to see and do. Classes in the morning in our local teaching hub will be supplemented with afternoon walking excursions in bustling streets, wonderful markets and Ano Poli, the old upper, once Ottoman-dominated part of town full of resplendent Byzantine churches, a sufi shrine, and resonances of a tragically lost Sephardi culture. Gastronomic delights – Salonika is famous for them – will never be far away. So our day trip into the countryside will include not just Vergina, the quite extraordinary site of classical Macedonia's royal tombs but also to a fantastic vineyard with a last stop nearby for a gently wave-lapped meal at a seaside taverna.
There'll also be opportunities for culinary and dance workshops involving some old Greek friends and – with the coast just a few miles away –  to cool off from the summer heat with some seaside relaxation.
If this takes your fancy contact us for more details by way of 'register your interest' below. Ellie is also on hand for any questions about the level of the course, or anything else. Just let us know and she'll send you an e-mail or give you a call. 'Adventures in Greek' can also cater for learners' friends or family  (at a reduced rate) who might wish to pass on the classes.
Price includes
Seven nights
22 hours intensive language tuition.
Three star, twin bed, hotel accommodation,
Breakfast and three other main meals during course of week
All advertised walks, talks and guided tours
Price does not include flight to, or from Greece
Single room supplement.
Tour Leaders: Ellie with Mark as historical foil
Itinerary
Full details on request.
Other tours you may be interested in...