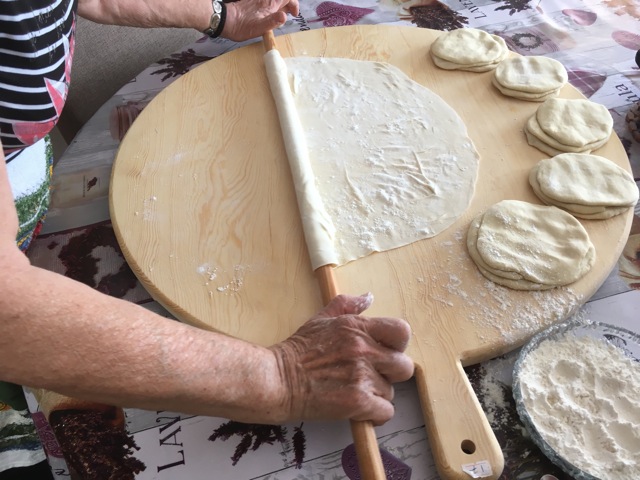 At my Mother's Table
Ellie's cooking club in Xanthi
Dates
8th  – 12th September 2022
For those of you who know Ellie famous portakalopita – orange pie – from her market stalls, now here's the opportunity to learn its hidden secrets. This long weekend of cooking, tasting and taking pleasure in local Thracian cuisine will be centred on her own mother's kitchen table. That said it will be memorable for more than just the scrumptious where not sublime food. There'll be a visit to a local vineyard, to Xanthi's bustling, multi-ethnic market, to a resplendent, icon-filled monastery as well as to the archaeological site associated with one of Xanthi's philosophical giants. But the real star of the show will be Ellie's super-cook mum. Watch out especially for her saragli, a rolled baklava, full of walnuts, syrup and butter! This will be a feast of a weekend to savour and remember.
Note: suitable for omnivores and vegetarians alike.
Tour Leader: Ellie
Price includes
Four nights
Three star, twin bed, hotel accommodation
Breakfast, cooking hub and daily meal
Transport to and from Thessaloniki airport
All advertised walks, talks and guided tours
Price does not include flight to, or from Greece
Single room supplement.
Itinerary
Full details on request
Dates
8th – 12th September 2022
Other tours you may be interested in...