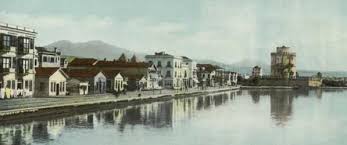 Indulgence with a book for company
An immersive weekend in Salonika's past and present
Dates
19th  – 23rd September 2022
Indulgence with a book for company
With Katerina Sarafoglou, the modistra heroine at the centre of Victoria Hislop's best selling novel, The Thread, as our guide, we'll be setting out   through an early twentieth century Salonika engulfed in tumultuous and traumatic change. Through her eyes we'll encounter protest, war, occupation, the German destruction of Salonika's Jewish community and what it was like – as with Katerina – herself to be a refugee.  
But Katerina's Salonika was also a city of joy and of vibrant cross-cultural relationships not least through women of different faiths and backgrounds sharing gossip, news and food. The city's renowned gastronomic delights today are their lasting legacy. In other words, this study-tour combines all the best elements of an extended reading group get-together, meaning ongoing discussion of a good book in situ with wonderful mezes, visits to the bustling markets and artisan workshops where lovely food is made, not to say memorable meals at tucked-away local tavernas and ouzerias.  
In this unashamedly indulgent long weekend we will encounter rembetika, make a communal feast of our own in a hands-on culinary workshop, meet the coffee ladies who'll tell our fortunes, head off on a boat trip across the bay and still have time not just to learn some Greek dances but genuinely de-stress in one of Salonika's famous out-of-town spas.
If the sound of this entices simply submit below and we'll tell you some more.  
Price includes
Four nights
Three star, twin bed hotel accommodation

Breakfast and four evening or lunchtime meals 

All advertised walks, talks culinary and dance workshops
Price does not include flight to, or from Greece, or transfer from airport
Single room supplement
Tour Leaders: Ellie with Mark plus some old friends to make this tour truly memorable.
Itinerary
Full details on request
Dates
19th – 23rd September 2022
Other tours you may be interested in...